At ServiceMaster Clean of Victoria, we have a strong team of professionals who take pride in their work and deliver uncompromising service to our customers.
Our staff are highly trained and have the versatility to take on cleaning projects for any size workplace.
And during these tricky times we guarantee you we will follow ALL COVID protcol to keep you and your family safe - and for the safety or our techicians as well.
IF YOU HAVE A CLEANING REQUIREMENT, ServiceMaster of Victoria HAS THE SOLUTION.
OUTSTANDING SERVICE + EXPERTISE = CUSTOMER LOYALTY
There are many reasons why tens of thousands of customers trust ServiceMaster Clean each year to keep their businesses and carpets looking their best. But the real key to our success is our outstanding service and expertise. ServiceMaster Clean has been in the commercial cleaning business for over 70 years, so our customers know we are a trusted, forward-thinking company, with the experience and resources to provide diversified, state-of-the-art commercial cleaning services to a wide range of industries.
RELIABILITY & ACCOUNTABILITY
ServiceMaster of Victoria is a reliable and innovative commercial cleaning company with 70 years of industry experience. Our customers can trust and depend on our extensive resources, research and development and our highly trained staff and long-tenured employees to deliver outstanding results and service, each and every time. We listen to your specific requirements and we offer a diversified range of commercial cleaning and disinfection service and pricing plans to suit the needs and budget of your particular business.
WE'RE DIVERSIFIED. THERE'S NO COMMERCIAL CLEANING WE CAN'T DO.
At ServiceMaster of Victoria, we not only provide outstanding Janitorial, Commercial Carpet Cleaning, Floor Care, Upholstery & Fabric Panel Cleaning, Post Construction Cleanup, , Healthcare Cleaning, we also offer a wide range of specialty commercial cleaning services, such as Window Cleaning - Interior And Exterior, Wood Furniture Cleaning And Protection, Workstation And Telephone Sanitizing, Pressure Washing, Disinfection Services, and so much more. If you need something in your commercial facility cleaned, make ServiceMaster of Victoria your first call!
ADVANCED PROCESSES, PRODUCTS AND TECHNOLOGY
As industry leaders in commercial cleaning for over 70 years, ServiceMaster Clean is committed to the ongoing development of innovative and environmentally sustainable cleaning products and procedures. ServiceMaster Clean has developed proprietary products to gently, but effectively clean your commercial facility, as well as its carpet, hard-surface floor, upholstery and furniture, ensuring lasting beauty and a professional appearance.
INNOVATIVE INDUSTRY LEADER
Whether it is inventing new ways to effectively clean all areas of your office, or extending the life of your carpet and other floor surfaces, we understand the power of clean and maintaining a healthy work environment. At ServiceMaster of Victoria, we continue to work hard to be on the cutting edge of all technological practices, products and advancements in the industry. This is only one of the many keys to our success as a leading Canadian commercial cleaning company.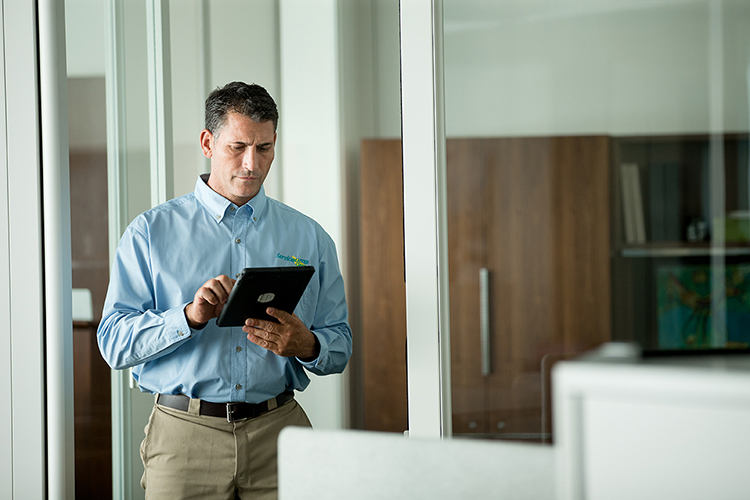 CLEANING FOR A HEALTHIER WORK ENVIRONMENT
We take our commitment to maintaining a healthier environment seriously and for this reason we have developed specific principles to guide us in serving our customers. ServiceMaster Clean Green For® products are designed for minimal environmental impact. They are free of ingredients such as perfumes and volatile organic compounds (VOCs).
Green For® products are ECOLOGO Certified for their reduced environmental impact. This certification is indicative of the meticulous testing and rigorous auditing that the product has undergone to prove its compliance with stringent, third-party, environmental performance standards.
Green For® products are safe for all occupants in the workplace, including individuals with asthma and chemical hypersensitivity.
See our Difference In Action
ServiceMaster of Victoria, utilizes the most advanced technologies to continually improve our service and our communication with our customers
Here are some of the systems we have in place to improve communications and the service we offer our customers:
TELLSERVICEMASTER (CUSTOMER SATISFACTION SURVEY SYSTEM)
At ServiceMaster of Victoria, we are committed to being our very best, so we regularly ask you to tell us how we are doing. Our TellServiceMaster® system, powered by Listen 360®, uses the latest technology to get your feedback on our performance. The system is designed so we can review individual customer feedback as well as our overall performance using the Net Promoter Score (NPS) system.